The Art of Meraki teaches us the power of putting our soul into something and thinking more deeply about our actions. Listening more deeply. Being more thorough in how you approach something. To do anything well requires Meraki. Meraki reveals your inner wisdom. Rushing less. Reflecting more.
meraki / noun. Greek
To do something with soul, creativity, or love;
to put something of yourself into your work
At its core, this beautiful word connects what we do with who we are. Use it to do more impactful work and be a more thoughtful partner, colleague and friend.
Doing something with Meraki makes you more vulnerable. You learn more about yourself in the process. When you finish, you feel more satisfied and complete. When others love what you've done, you feel validated and seen.
Yet, criticism stings harder. It can make us afraid of putting ourselves into what we do. We fear exposing what we guard so carefully: our souls, our creativity and our love. Yet these things can only grow if we share them freely. If we never do, we miss the joy that Meraki (and life) can bring.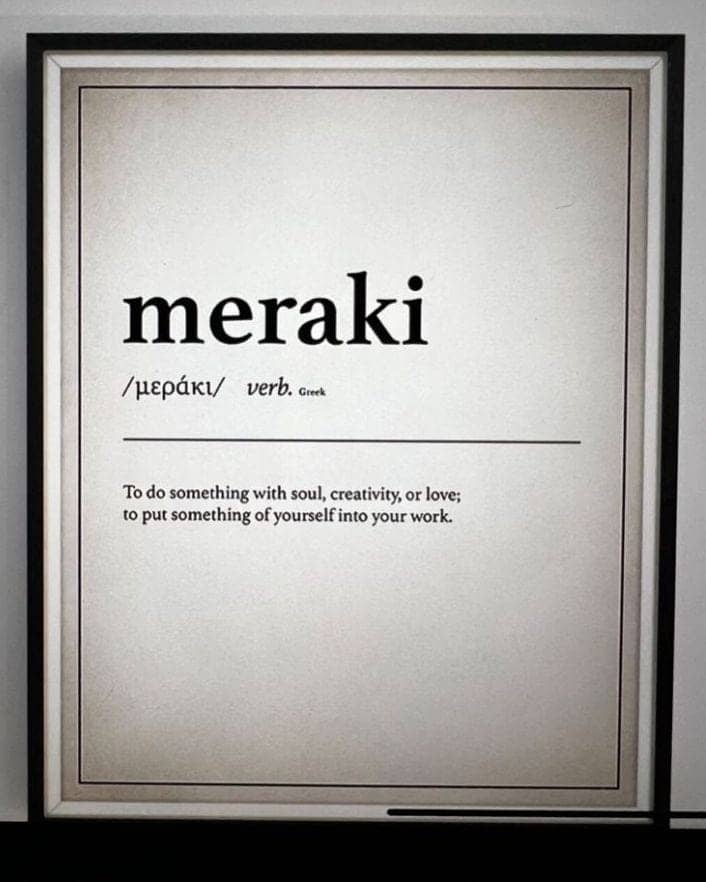 When so much of our lives are consumed with work, and little of it has Meraki, we feel alien to ourselves. Who am I? Why can't I recognise myself in anything I do?
All the productivity porn out there only makes it worse. Don't substitute doing with Meraki with doing more.
What if you looked at what you need to accomplish and asked yourself, "what would I do differently if I did it with soul, creativity, or love?" You might find the few but crucial things in your burgeoning to-do list that matter most.
Not everything calls on you to imbue it with soul, creativity, or love. What are those things you don't apply Meraki to? Why and why not?
Let the presence and absence of Meraki guide you closer to what matters to you and express more of who you are through your actions.
Use it to celebrate the power of your soul, creativity and love and become who you were always meant to be.